Rob Moss Wilson

Works from MAGIC HOUR in Berkeley (on view in October 2023) are now available for purchase in my online painting store.

Sign up for my newsletter and be the first to hear about painting sales!


---

I'm showing new work with my bud Iris de la Torre at 2727 California Street in Berkeley.

Opening art party:
Saturday, October 14, 5–8pm

Open viewing hours:
Sunday, October 22, 1-4pm

Drawing sale and closing:
Sunday, October 29, 1-4pm

You can also get a pretty good view from the street during the day, there are lots of windows!


---
View paintings from the past here in my archive :)
---
>>>
Read an interview about my work
on the website It's Nice That.
---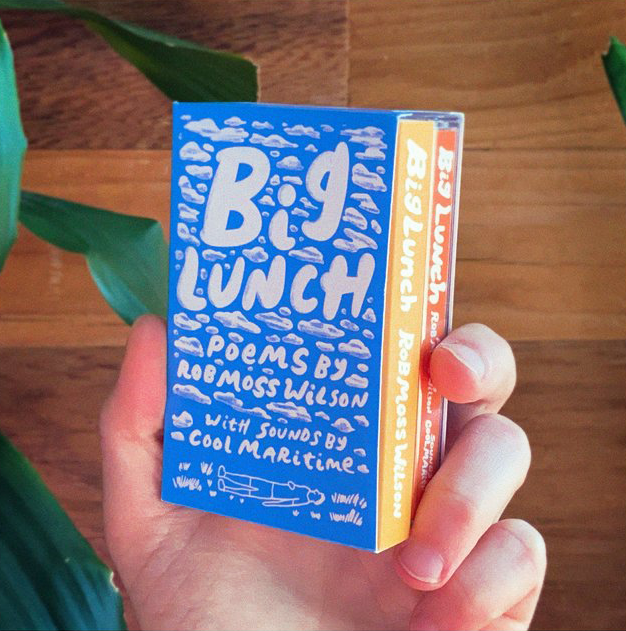 Big Lunch

~ ~ ~ Poetry book and cassete tape box-set with sounds by Cool Maritime, available now from

Touch the Plants.

<-- Click here
---
🍄️ 🌈️ 🌏️ Instagram
INQUIRES: robmosswilson at gmail dot com
---
Rob Moss Wilson lives by a creek in downtown Martinez, California. He keeps several cauldrons of creative juices on a perpetual simmer, including but not limited to: writing small poems about mundane ecstatic experiences, painting landscapes and picnic scenes, kinetic light sculpture performance, and drawing anything that he fancies.
robmosswilson.com
Welcome to the INTERNET PAINTING STORE



Thank you for stopping by :)

If you see something you like, purchase it below!

Images are not to scale; be sure to read dimensions. Please note some paintings are too large to ship and are pickup / Bay Area delivery only.

Works are from MAGIC HOUR, on view now at 2727 California Street in Berkeley, alongside new works by Iris de la Torre. The works will be available for pick up in Berkeley on October 29, or delivery/shipping after that day.




Shell beach swim scene
25 x 19 inches
acrylic on canvas






Cloud gazers
49 x 25 inches
acrylic on canvas




Not available to ship; pick up in Berkeley or Martinez or delivery available within the Bay Area






Briones hillscape
13 x 13 inches
acrylic on canvas




Foamy cove swimmers
17 x 13 inches
acrylic on canvas




UFO with Previa
13 x 13 inches
acrylic on canvas




Kullavik swim scene
73 x 37 inches
acrylic on canvas